Bull's Head

Address: The Street (B2127)
Post Code: GU6 7QD
Location: EWHURST
OS Ref: TQ 090408 (Bing Maps) (Google Maps)
Ownership: Patron Capital
Web Site: www.bullsheadewhurst.co.uk


TEMPORARY CLOSURE
Closed Date: Jun 2020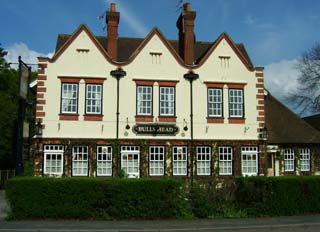 This comfortable village pub has a number of areas served from a single bar, which also features a real fire. It is thought the pub was built in 1908 in anticipation of the railway, but this never came. Good food is served from 12-2 and 6-9 from Monday to Saturday and from 12-8 Sunday. Coffee and snacks are also sold from 10:30 (although you are welcome to have a beer if you wish). There is a barn to the rear of the pub which can be used for functions. This has wooden floors and a wood-burning stove in it. This is the venue for film nights, with films shown once or twice a month on a large screen - see the pub website for details. There is also an outside skittle alley which can be booked. Five bedrooms are available, three of which are en-suite. The guest beer changes every 2-3 weeks and tends to be from one of the larger regional brewers. Currently being renovated and will re-open at the end of summer 2021. More details when we get them.
Last Updated: 11 May 2021