Nutley Hall

Address: 8 Nutley Lane
Post Code: RH2 9HS
Location: REIGATE
OS Ref: TQ 249504 (Bing Maps) (Google Maps)
Ownership: Hall & Woodhouse


CLOSED/DEMOLISHED
Closed Date: 25 Jan 2013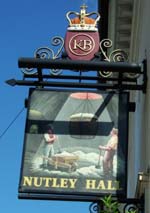 A long established pub with a small L-shaped bar, the Nutley Hall continued to be a genuine, friendly local until its closure on 25 January 2013. Although there was much local support for the pub, brewery vandals from Dorset decided it had to go. The pub hosted two cricket teams. Many years ago, the upstairs rooms served as a doss house, latterly it formed part of the landlord's accommodation. Although hard to find, it was behind the Upper West Street car park. As part of a traffic calming scheme, the road in front of the Nutley was redesigned to include a "pocket garden". The pub was built over a part of Reigate 'caves', a series of man-made tunnels which were probably the result of illegal sand mining, and there was access to them from the cellar. The pub was in the hands of Horsham brewer King & Barnes for many years before that brewery was bought by out of area brewer Hall & Woodhouse.
Last Updated: 09 Jan 2018